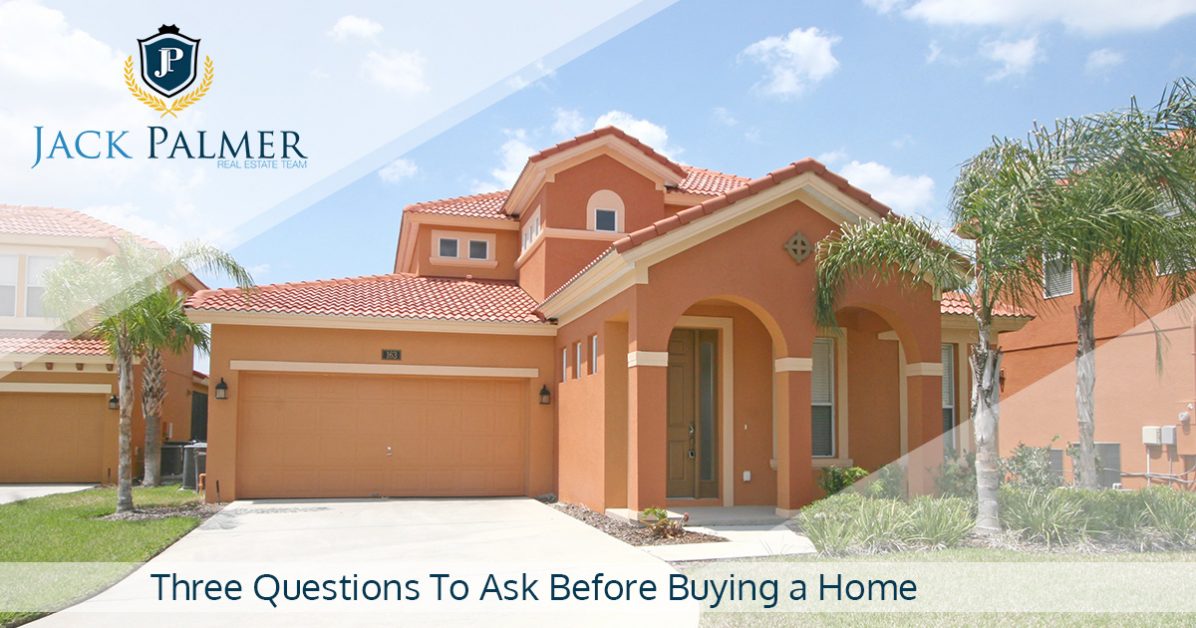 As a first-time homebuyer, there are many red flags you should be aware of that you may not have initially considered. Making a hasty purchasing decision without first doing your homework on the property for sale can leave you with costly repairs, unforeseen damages, and time lost due to remodeling projects. Worse yet, the addition of a monthly mortgage payment can make it extremely difficult to complete expensive repairs in an efficient manner. These are just a few reasons why it is always a good idea to ask numerous questions while searching for your new home. That's why, during this article, we will outline some of the key questions you should be asking so that you aren't left with additional repair costs after closing on your home.
If you are considering buying a home in South Bay or its surrounding areas, and are in need of a qualified and experienced real estate team, contact the professionals at Jack Palmer Homes today. With over 17 years of experience in residential and commercial real estate, we have an in-depth understanding of South Bay, the surrounding areas, property values, and much more. To learn about the key questions to keep in mind while searching for your next home, continue reading more below.
Location
Location is one of the most important aspects of real estate and can make or break a buyer's decision to purchase a piece of property. When viewing a home, you should inquire about the home's proximity to schools, shopping, parks, or other locations that can add value and convenience to the property in question. Location is what attracts buyers to real estate listings, and will play a large role in the final asking price of the home for sale. Many homebuyers search for a piece of property that is five to 15 minutes away from essential grocery stores and other locations of interest, which is why it is important to treat a home's location with the utmost importance.
There are other factors to consider as well when asking about the property's location, such as public transportation. If you don't plan on commuting to and from work using your vehicle, you will most likely want to find a home for sale that is close to your place of work or near a frequented bus stop. This will make daily commutes much less stressful and will end up saving you money that you would have otherwise spent on gas.
Condition
Before rushing into any major real estate purchasing decision, it is crucial that you first learn about the condition of the home in question. Many homes for sale may look aesthetically pleasing to the eye, but upon deeper inspection, there may be several concerns that you may have initially been unaware of. For example, older homes may be susceptible to electrical issues, drafty windows, poor insulation, mold growth, or other major concerns that could turn an affordable purchase into a costly fixer upper.
If you are not confident in your knowledge of a home's wiring, plumbing, or heating and cooling systems, you may want to hire an inspector who will know exactly what to look for when questioning a home's condition. Typical inspection costs can range from $200 to $400 depending on the size of the home for sale, a small fee that will provide you peace of mind while saving you from a potentially unwise purchase. While many potential buyers will look over a home's interior with a fine-tooth comb, they often forget about inspecting the outside of a home. An affordable roof replacement can cost anywhere from $5,000 to $9,000, which is why you should always ask about the current state of the home's roof.
Price
Lastly, after inspecting the home for sale and inquiring about whether it is located near points of interest, you should next ask about the home's price. There are several questions you can ask that will give you a better idea of the home's value, such as how much nearby homes have sold for in the past. If a home in the area was recently sold well below the asking price of the home you are viewing, you may end up paying too much for a piece of property that is worth less than the asking price.
Many homeowners are willing to negotiate on the price of their home within a reasonable amount, which is why you should always ask if the asking price is firm or flexible. Saving a few thousand dollars may not seem like a large savings when paying for a home worth hundreds of thousands of dollars, but additional savings can be put towards immediate remodels or future mortgage payments.
After asking the three questions listed above while viewing a home for sale, you will be able to have a much deeper understanding about the property in question, its overall condition, whether or not the price is negotiable, and many other factors to help you make an informed purchasing decision. Most importantly, when you are thinking about purchasing or selling a home, you need a qualified team of trustworthy real estate professionals on your side.
If you are thinking about buying or selling a home in South Bay or its surrounding areas, contact the experts at Jack Palmer Homes today. We will work with you to find a property that fits your budget as well as your needs, while providing the key information you will need to make your purchasing decision simple. Visit our website or call us today to get started!