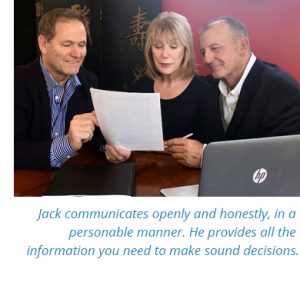 JACK PALMER LOVES GIVING BACK TO THE SOUTH BAY COMMUNITY THAT HAS MEANT SO MUCH IN HIS OWN LIFE. THIS IS HIS STORY.
There's an energy and a spirit in the communities of the South Bay that rejuvenates Jack Palmer. Like the brisk winds that blow in from the Pacific, that energy permeates the area and fuels his passion for this place he calls home. And if you knew Jack's story and his dynamic perspective on life, you'd agree that he and the South Bay region are a perfect fit.
The Story Begins…
Jack grew up in the suburbs of New Jersey. He took to sports early on and excelled. In high school, he lettered in three sports and was the underclassman starting quarterback playing on a team of all seniors. He also wrestled and ran track. Jack earned a football scholarship to a small university in North Carolina. "Sports builds character," he explains. "To this day, my mantra is no matter what the score might be, you're never out of the game."
The New York City Chapter
After graduating with a Degree in Psychology/Business, Jack moved to New York City taking on a job at Chemical Bank, working atop the famous RCA building. He served as an administrator for large corporate investment plans.
The Tinsel Town Detour
Jack's life took a detour when he got the acting bug. Everyone told him not to leave his secure job, but with his nothing is impossible as long as you show up and do the hard work perspective on life, he plunged right in. He studied at the famous T. Schreiber Institute in Greenwich Village. He put in the work, paid his dues.
"When people told me I couldn't make it, that made me work even harder," he says. Jack acted in commercials and took on small parts on stage and on television shows. He then got a part on an ABC soap opera, playing a role that two other big Hollywood stars had played before him. It was the mid 1980s and Jack relocated to the West Coast where he landed a role on an NBC prime time show. Other highlights in his career include being the international face of a worldwide brand filming commercials in exotic locales.
Silver Lining
Around this time, Jack put family first and retired from "the business". The silver lining was his career had brought him to the South Bay area, and now he found himself in a great place to focus on family and the next chapter in life.
Father, Coach And Soccer Dad
Jack relished more time with his four children, Stacey, Jessie, Johnny and Lily. For a time, he was a stay at home dad, and as his kids grew, he began coaching them and other South Bay kids in AYSO soccer and Little League. "I got into coaching because I saw adult coaches yelling at these kids in oversize helmets and I knew that was wrong," Jack explains. He mentored every kid on the team, not just the star players, and parents began requesting him to coach their kids each following year. From there, Jack followed in his parents' footsteps and got into real estate. "My folks owned several brokerages, and getting into the industry just felt right," Jack says. "Helping the families of this area became my passion. Successfully guiding them through such an important investment was a way to contribute to the community that meant so much to me."
Real Estate From All Perspectives
For over 17 years, Jack worked residential real estate, recognized as a Top Producer. He also served as an investor and a principal member of a small team flipping houses. In addition, he was the project manager, determining property values, hiring contractors and overseeing each project. He also designed the finishes- paint colors, kitchens, bathrooms and landscaping. The group bought and sold 50 plus homes in the Los Angeles area, successfully flipping 25 of those homes. They also flipped 45 homes in Florida.
The South Bay Perspective You Need
Where it all comes together- Jack's never quit attitude, his mortgage background, his 17 years of real estate experience, investment expertise, and the depth of knowledge that flipping homes brings him—is when he goes to work for South Bay families like yours. His personable and steady demeanor, plus the scope of his knowledge, make working with him an enjoyable process. He puts your best interests above all. "My integrity and reputation are my calling card," he says. If you are looking to make a move, go with Jack Palmer.
South Bay Pride. South Bay Perspective.